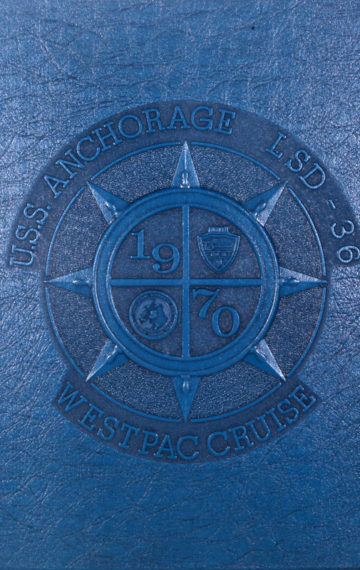 USS Anchorage 1970
$249.00
Publisher:

Allen Publishing

Editor:

ENS J. E. Kaufman

Edition:

1st

Available in:

Hard Cover

Published:

1970
Buy On Amazon
Buy Direct
Rare, New Copy Of The Navy Cruise Book Created By The Officers And Crew Of USS ANCHORAGE (LSD-36) To Commemorate The 1970 Plankowners Cruise to WESTPAC During The Vietnam Era
USS Anchorage (LSD-36) was commissioned on 15 March 1969. Outfitted with a large floodable stern section accessed through an enormous operable stern gate, ANCHORAGE served as a launch platform for large landing craft. In the ship's 34 years of service she completed 19 deployments in the Western Pacific and became the most decorated dock landing ship on the west coast.
The USS Anchorage cruise book includes individual portraits of the crew, and many photos from ports of call such as Qui Nhon, Vung Tau, Mod Loc, Cam Rahn Bay – Vietnam; An Thoy – Cambodia; Subic Bay – Philippines; Sasebo – Japan; and Hong Kong.
ENS J. E. Kaufman – Editor
FTG2 C. T. Dill and RD2 C. R. Fisher – Copy
RM3 T. L.  Sherman – Layout
ET1 C. Williamson and SN J. R. Husband – Photography
At the end of the Vietnam War, USS Anchorage carried Marines back to the United States as a part of the U.S. withdrawal from Vietnam. In April 1975, ANCHORAGE participated in Operation Frequent Wind, the evacuation of Saigon, Vietnam.
End Of The Line For USS Anchorage (LSD-36)
On 17 July 2010, Anchorage was used as a target during RIMPAC for Maverick and Harpoon missiles fired from US Patrol Squadrons VP-5 and VP-40. After nearly 6 hours of being pounded by anti-ship cruise missiles and air dropped bombs, the ANCHORAGE would not yield to the depths of the ocean.
With the late day's sun rays illuminating her port side, the USS BREMERTON (SSN-698), was called in to finish the job. With one well placed torpedo, the ANCHORAGE received a direct hit that lifted the ship out of the water and broke her keel.
Nearly 22 minutes later, the ANCHORAGE slipped beneath the surface completing the final stage of the RIMPAC 2010 SINKEX.
MY GOD HOW CAN THEY DO THIS
TO THESE BEAUTIFUL NAVAL HISTORIC SHIPS?
Having been stored by the publisher for the last 45 years, this copy of the book offered for sale is brand new and has never been released. It is in good condition. There may be slight darkening on the edges of the paper, some discoloration or scuff marks to the cover and a very slight musty smell from storage, which should air out. Of course, if you have any questions whatsoever about the contents of this book or its condition, please contact us.
Find other USS Anchorage memorabilia on Amazon