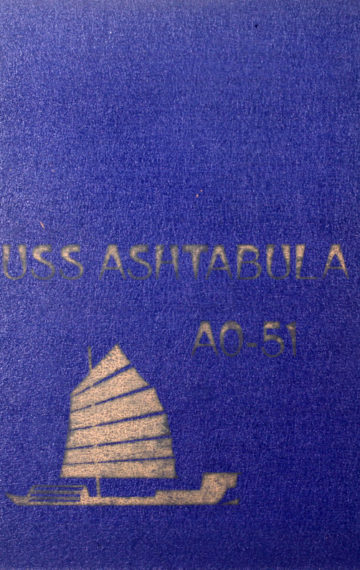 USS Ashtabula (AO-15)
$249
Publisher:

Allen Publishing

Editor:

SK2 Joseph R. Landi

Edition:

1st

Available in:

Hard Cover

Published:

1971
Buy On Amazon
Buy Direct
Rare, New Copy Of The Collectible Book Created By The Officers And Crew Of USS ASHTABULA (AO-15) To Commemorate The 1970-1971 WESTPAC Cruise
A Cimarron-class fleet oiler, the USS Ashtabula (AO-51) was the only U.S. Navy ship bearing the name Ashtabula, after the city of Ashtabula (an Indian word meaning "fish river"), which was named after the Ashtabula River in Ohio.
Laid down on October 1, 1942 as maritime commission hull number 717, and launched 23 May 1943 and commissioned on 7 August, 1943, USS Ashtabula served in the Pacific theater and survived three major wars.
This 1970-1971 USS Ashtabula (AO-15) cruise book:
Hardbound cover, 9 x 12 format
112 pages
Group portraits
Scenes of shipboard action
B & W and color photographs in Ports of Call
Cruise Book Staff:
LTJG Arnzen Ferguson – Advisor
SK2 Joseph R. Landi – Editor
IC3 Billy Holyfield – Assistant Editor and Photography
MM2 James B. Whaley – Sales and Treasury
FTG3 Dale Gosnell, Photography
YN3 George R. Miller – Typist
More about the ship:
USS Ashtabula (AO-15)1943-2000
During the Vietnam era, Ashtabula (AO-15), fueled ships as part of a peacetime routine in the first half of 1964, then spent the next eight years in the Gulf of Tonkin, with the 7th Fleet in the South China Sea, and waters surrounding Vietnam during regular deployments to the Far East operating out of the ports of Subic Bay and Kaohsiung.
One of eight "Jumboized" tankers, in 1968 Ashtabula underwent Jumboization at Todd Shipyards, Los Angeles Dividision, in San Pedro, California. A 400-foot midsection, built entirely new from the keel up, was inserted and welded between her original bow and stern. This replaced the old 310-foot midsection and increased the vessel's liquid cargo capacity by over one-third. Her new configuration closely resembled that of a more modern type of ship, the replenishment oiler.
Ashtabula continued her Vietnam service through August 1972, when she made her last line swing off Vietnam. The ship returned to Long Beach on 9 December.
Decommissioning and SINKEX
After surviving three wars in which she was awarded eight battle stars for World War II service, four battle stars for Korean War service, and eight campaign stars for Vietnam War service, the much beloved Fleet Oiler USS Ashtabula (AO-15) was decommissioned at Pearl harbor on 30 September 1982, stricken from the Naval Vessel Register on 6 September 1991, and sold for scrapping in 1995. After the shipbreaker defaulted, Ashtabula returned to the Navy on 27 September 1999 until she was destroyed and sunk during a SINKEX exercise on 14 October 2000.
USS ASHTABULA R.I.P.
About this USS ASHTABULA 1970-1971 WESTPAC Navy Cruise Book
Having been stored by the publisher for the last 45 years, this copy of USS ASHTABULA 1970-1971 WESTPAC Navy Cruise Book offered for sale is brand new and has never been distributed. It is in good condition. There may be slight darkening on the edges of the paper, some scuff marks to the cover and a very slight musty smell from storage, which should air out. Some tiny fragments of paper stuck to the edges of the cover will probably come off with care. If you have any questions whatsoever about the contents of this book or its condition, please contact us.