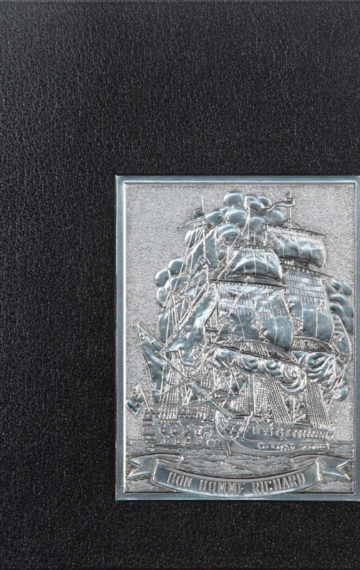 Bon Homme Richard 1970
$299
Publisher:

Allen Publishing

Editor:

LCDR D.A. Yost

Edition:

First

Available in:

Hard Cover

Published:

1970
Buy On Amazon
Buy Direct
Rare, Brand New Copy Of The Cruise Book Created By The Officers And Crew As A Permanent Record To Commemorate The 25th Anniversary Of The Aircraft Carrier USS BON HOMME RICHARD CVA-31 And Her Activities During The 1970 Westpac Deployment To Vietnam … Which Was To Be Her LAST
The Crew who manned Her and Staff who created this remarkable volume had no idea what would become the historical importance of their book. This USS Bon Homme Richard (CVA-31) 25th Anniversary Cruise Book sets forth the history of her predecessor and of this ship, whose contributions spanned three wars.
The 1970 Navy Westpac cruise to Vietnam, documented in these pages, was the LAST deployment of this valiant aircraft carrier.
"Give me a fast ship, for I intend to get in Harm's way."
John Paul Jones to the French in 1776
The written story of the Bon Homme Richard and numerous photographs illustrate 352 pages of one of the most remarkable cruise books ever printed.
History of the Bon Homme Richard (CVA-31)
History in the first 55 pages begins with the first named frigate in the Revolutionary War. Continuing with the new ship built in 1944 that served through World War II, the Korean War and Vietnam, the books is heavily illustrated with drawings and photographs from these eras.
This record of her final Westpac mission in 1970 begins on Page 56 with a two-page spread from the air of an airborne jet flying above the carrier, and these words:
"With every account of history a focal point must be established which encompasses the beginning and the end of your story. As each day passes another account of history is recorded.
Our story began with America's war for independence, and it ends with the present. Where our story will go from here can only be told by sooth-sayers and time itself. If there will be another chapter added to this history, we cannot say, but we can be certain of one thing, the men of BON HOMME RICHARD will always live up to the quote of Rear Admiral Monroe Kelly at the commissioning of USS BON HOMME RICHARD CV-31, 26 November 1944:
"You must bring her to life. You must vie her character and instill in her that indomitable fighting spirit so characteristic of the United States Navy."
"Much has been written about the role of the attack aircraft carrier in our country's military structure, but to every man who has served aboard a carrier at war the ship is a more personal and tangible thing.
For this reason this book is designed to show the ship as she is, a group of 3,500 men and machines that live and work in close proximity with each other. No where else in the world can so many men in so little an area do so much for the defense of freedom throughout the world.
This is the story of BON HOMME RICHARD."
With our thanks to the men and women who serve our country, we hope you will read more about the history of this ship, and honor those who served aboard, whether or not you desire to own this book. (Publisher)
More about the book:
USS Bon Homme Richard (CVA-31) was the second United States Navy ship of that name. She was named in honor of John Paul Jones' famous frigate, which he had named the French language equivalent of "Poor Richard," in honor of Benjamin Franklin's almanac of that name.
High quality cover is a smythe-sewn hardbound, leatherette with "pigskin finish." The embossed silver metal die-cast emblem on the cover recreates the scene of the battle of the first BON HOMME RICHARD and the 50-gun HMS SERAPIS during the Revolutionary War — it was during this battle with HMS Serapis that John Paul Jones uttered his famous cry "I have not yet begun to fight!"
More of this gallant aircraft carrier's history can be learned from Department of the Navy B The Naval Historical Center:
USS Bon Homme Richard (CV-31, later CVA-31), 1944-1992
USS Bon Homme Richard, a 27,100-ton Essex class aircraft carrier, was built at the New York Navy Yard, Brooklyn, New York. Commissioned in November 1944, she went to the Pacific in March 1945 and in June joined the fast carriers in the combat zone and took part in the final raids on Japan. With the end of hostilities in mid-August, Bon Homme Richard continued operations off Japan until September, when she returned to the United States. "Magic Carpet" personnel transportation service occupied her into 1946. She was thereafter generally inactive until decommissioning at Seattle, Washington, in January 1947.
USS Bon Homme Richard (CVA-31) In The Korean War
The outbreak of the Korean War in late June 1950 called Bon Homme Richard back to active duty. She recommissioned in January 1951 and deployed to the Western Pacific that May, launching her planes against enemy targets in Korea until the deployment ended late in the year. A second combat tour followed in May-December 1952, during which she was redesignated CVA-31. The carrier decommissioned in May 1953 to undergo a major conversion to equip her to operate high-performance jet aircraft.
USS Bon Homme Richard (CVA-31) emerged from the shipyard with an angled and strengthened flight deck, enclosed "hurricane" bow, steam catapults, a new island, wider beam and many other improvements. Recommissioned in September 1955, she began the first of a long series of Seventh Fleet deployments. Additional Western Pacific cruises followed in 1957, 1958-1959, 1959-60, 1961, 1962-63, and 1964, with the last including a voyage into the Indian Ocean.
USS Bon Homme Richard (CVA-31) Vietnam Era
The Vietnam war escalation in early 1965 brought Bon Homme Richard into a third armed conflict, and she deployed on five Southeast Asia combat tours over the next six years. Her aircraft battled North Vietnamese MiGs on many occasions, downing several, as well as striking transportation and infrastructure targets. Occasional excursions to other Asian areas provided some variety to her operations.
Bon Homme Richard was ordered inactivated at the end of her 1970 deployment. She decommissioned in July 1971, becoming part of the Reserve Fleet at Bremerton, Washington. Following two decades in "mothballs" she was sold for scrapping in March 1992.
Captain J.F. Davis served as Chief of Staff for Commander Carrier Division One
Captain K.A. Burrows joined Carrier Division One in March 1970 as Operations Officer
Captain D.W. Alderton took command of USS BON HOMME RICHARD on May 30, 1969.
Captain Frank T. Hemler relieved Captain Alderton on 29 June 1970 in a CHANGE OF COMMAND ceremony. Commander D.E. Reh proudly served as his Executive Officer, joining the ship in July 1969.
About This USS Bon Homme Richard (CVA-31) 25th Anniversary Navy Cruise Book
This 46 year old cruise book is a historical record containing over 350 pages packed with descriptive text and photographs featuring the Ship, Officers & Crew, Divisions, ship-board activities and Ports of Call (including Hong Kong, Hawaii, Japan, and Philippines PLUS her home port of San Diego), and more!
Group portraits of each department identify the sailors in each photograph.
This Navy cruise book is in good condition. It has been stored by the publisher with other Navy Westpac cruise books  for 46 years. There may be slight darkening or smudges on the edges of the paper, discoloration or minor scuff marks to the cover and a very slight musty smell from storage, which should air out. Otherwise, it is new, never read and the pages are unmarked and in great condition. Of course, if you have any questions whatsoever about the contents of this book or its condition, please contact us.