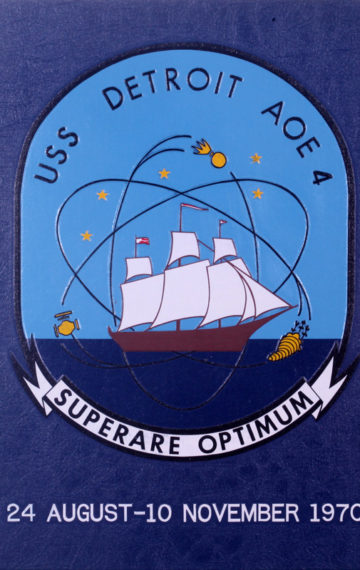 USS Detroit
$249.00
Publisher:

Allen Publishing

Editor:

LCDR Richard F. Carroll, Lawrence Allen

Edition:

First

Available in:

Hard Cover

Published:

1970
Buy On Amazon
Buy Direct
Rare, Brand New Copy Of The Cruise Book Created By The Officers And Crew Of USS DETROIT As A Permanent Record To Commemorate The Incredible 1970 First Cruise After Commissioning At Bremerton, Washington Around The Tip Of South America To Newport,  Rhode Island
MISSION
OF THE FAST COMBAT SUPPORT SHIP
USS DETROIT (AOE 4)
USS DETROIT (AOE 4) is the fourth of the SACRAMENTO Class of Fast Combat Support Ships to be built for the U.S. Navy. Her mission is to provide rapid, simultaneous, one-stop, underway replenishment of petroleum products, ammunition, provisions and general stores to attack carrier task forces at sea.
DETROIT is equipped with the latest and most sophisticated types of cargo handling equipment. STREAM (Standard Tensioned Replenishment Alongside Method) enables the ship to effect simultaneous and rapid delivery of large quantities of all types of cargo from fifteen transfer stations (nine port and six starboard) while steaming at high speeds. She carries three Boeing Vertol UH46-D jet powered helicopters that are capable of transferring to other ships up to one hundred tons of cargo per hour.
Especially valuable characteristics of DETROIT are her high speed and rapid cargo transfer rates. These permit her to operate in formation with fast attack carrier task forces and to replenish them rapidly, thus reducing their time alongside. The Fast Combat Support Ship is considered to be a revolutionary development in the exacting science of mobile logistic support of combatant forces at sea.
Built at Bremerton, Washington
29 November 1966             Keel laid
21 June 1969                        Christened and Launched
28 March 1970                     Commissioned
This beautifully produced cruise book of the USS DETROIT (AOE 4) covers the first cruise leaving Bremerton, Washington on 24 August 1970, stopping in Long Beach and San Diego, California – on to Acapulco, Mexico – across the Equator on 11 October – making rendezvous with three UNITAS XI ships of the United States Navy 50 miles off Concepcion, Chile, to provide logistical support.  UNITAS XI was a cooperative antisubmarine warfare training exercise involving ships of the U.S. Atlantic Fleet and ships of the Latin American Navies.
Then DETROIT sailed around the tip of South America, stopping again in Rio de Janeiro, Brazil on the 27 to 32st of October, arriving in Newport, Rhode Island on 10 November 1970.
The 1970 Vietnam era cruise book of USS DETROIT also contains individual portraits of all the crew members  photographed by the portrait division of Allen Publishing. Having been stored by the publisher for the last 45 years, this copy of the book offered for sale is brand new and has never been released. It is in good condition. If you have any questions whatsoever about the contents of this book or its condition, please contact us.
USS Detroit memorabilia on Amazon