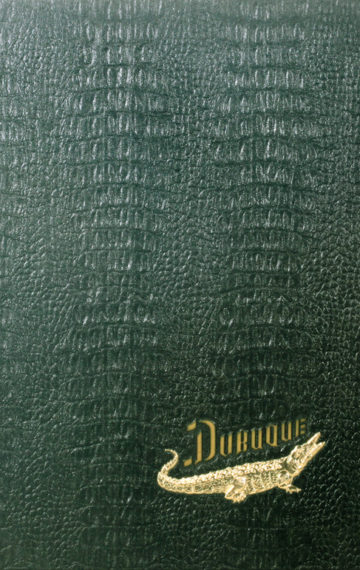 USS Dubuque 1967-68
$249.00
Publisher:

Allen Publishing

Editor:

Lt. W.J. Flanagan Jr., Ens. V.E. Myers

Edition:

First

Available in:

Hard Cover

Published:

1968
Buy On Amazon
Buy Direct
USS DUBUQUE LPH-8 1967-1968 WESTPAC
VIETNAM NAVY CRUISE BOOK
PLANKOWNERS CRUISE
Rare, New Copy Of The Cruise Book Created By The Officers And Crew Of The USS DUBUQUE LPH-8 As A Permanent Record To Commemorate The First (Plankowners) Cruise From Norfolk, Virginia To Vietnam, Westpac Deployment, From 1968 to 1969 Of The Vietnam Era.
"Behold the cold, stark beauty of a new ship, clad in haze grey, bristling with antenna and gun muzzles, potentially a man of war . . . but not until the young, spirited American sailors man their stations and bring the ship pulsing to its peak capability, and so it was with DUBUQUE. Nurtured to commissioning by its nucleus crew. Driven through shake down  training, amphibious training, and myriad inspections by dedicated officers and petty officers leading, training, teaching our ten score recruits.
No better test of ship and men than combat duty with the Seventh Fleet Amphibious Force. Combat support of the Marine Special landing Force in and below the D.M.Z., Operation Fortress Attack, Proud Hunter, Swift Pursuit, Eager Hunter, first repatriation of NVN POW's by sea in Operation Mighty Yankee, redeployment of the First Air Cavalry Division, Operation Liberty Canyon; we met every operational commitment.
The commissioning crew of a new ship establishes a ship's reputation in the fleet and sets the standards for her performance. You have set the standards high and established the DUBUQUE as a combat-ready, happy ship, BRAVO ZULU to all Plankowners and WESTPAC Cruise Shipmates. It is a privilege and an honor to have been Your Commanding Officer."
H.J. Ursettie, Captain, USN
Having been stored by the publisher for the past 47 years and never distributed, this USS DUBUQUE 1967-68 WESTPAC VIETNAM CRUISE BOOK is new, in good condition. There may be slight darkening on the edges of the paper, some scuff marks to the cover and a very slight musty smell from storage, which should air out. If you have any questions whatsoever about the contents of this book or its condition, please contact us.