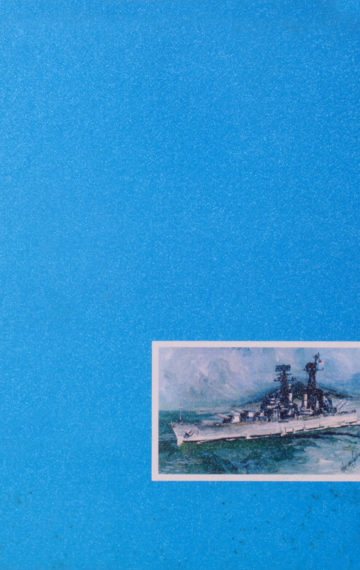 USS Galveston 1968-69
$249.00
Publisher:

Allen Publishing

Editor:

LCDR R.C. Hurd, Lawrence Allen

Edition:

First

Available in:

Hard Cover

Published:

1969
Buy On Amazon
Buy Direct
Rare, New Copy Of The Collectible Book Created By The Officers And Crew Of USS GALVESTON CLG-3 To Commemorate The Incredible 1968-1969 Double Cruise to WESTPAC and Vietnam Followed By An Immediate MED Cruise
From the introduction:
"A USS GALVESTON (CLG3) is something of a rarity in the Pacific Fleet – the guided missile light cruiser has spent almost as much time in Atlantic and Mediterranean waters as she has in the Western Pacific since moving to San Diego in 1962.
 The cruiser "that just can't stay away from the Atlantic" returned November 9, 1969, from her second tour with the U.S. Sixth Fleet in the Mediterranean. In her return from the Atlantic, she transitted the Panama Canal for the fifth time since she was commissioned in 1958 at Philadelphia…
 Here is a record of the crew of the USS GALVESTON CLG-3. It is story of who they were and where they went.
 Here are recorded the events, the places, the tools, the equipments, and the people that were a part of a cruise which began in San Diego in October 1968 and ended there in November 1969 ."
Hardbound cover, 8-1/2 x 11 format
283 profusely illustrated pages, jam packed with explanations and humor
Group portraits "on location," each crewman identified in sub-captions
Scenes of shipboard action, some excellent photography
B & W and color photographs in Ports of Call
Captain Robert B. Pettitt was Commanding Officer of USS GALVESTON from March 1968 until May 1969.
Captain James W. Montgomery relieved Captain Pettitt on 17 May 1969.
Commander K. C. Reynolds proudly served as Executive Officer.
Captain L. Torres, USMC served as Commanding Officer of GALVESTON=s Marine detachment until he was relieved by 1st Lieutenant J. Erly during the ship's visit to Subic Bay in November 1968.
More about the ship:
USS Galveston (CLG-3, previously CL-93), 1946-1975
As part of the Navy's Fiscal Year 1956 shipbuilding and conversion program the never-commissioned light cruiser Galveston (CL-93), a member of the Atlantic Reserve Fleet since mid-1946, was taken out of "mothballs" and turned over to the Philadelphia Naval Shipyard for reconstruction as a guided missile ship. Redesignated CLG-93 in February 1956, as work was beginning, she received her definitive hull number, CLG-3, in May 1957.
Galveston was commissioned in May 1958 as the Navy's first ship to carry the "Talos" guided missile, a long-range, and quite large, anti-aircraft weapon. The ship had been extensively modified, especially aft of amidships, to equip her with magazines, a launcher and the radars associated with this new weapons system, and her first three years of active service were largely spent testing the "Talos" at sea off the U.S. East Coast and in the Caribbean region.
From mid-1961 to mid-1962 Galveston was back in shipyard hands, receiving new search radars among other modifications. She then transferred to the Pacific Fleet and in 1963-1964 made her first overseas deployment, a half-year tour with the Seventh Fleet in the Far East.
Her second western Pacific cruise, in June-December 1965, included active involvement in the Vietnam War, with the cruiser using her five and six-inch guns to bombard the enemy ashore. She also provided air defense for Naval Forces operating in the Gulf of Tonkin and took part in search and rescue operations.
Early in 1967 Galveston was temporarily sent back to the Atlantic to serve a term in Mediterranean Sea with the Sixth Fleet. This tour, in March-August 1967, was marked by the short, but very intense, war in June between Israel and several Arab nations.
In September the ship returned to the Pacific and about a year later began her third Seventh Fleet deployment, which featured more Vietnam war combat service. Returning to the U.S. in January 1969, Galveston again went to the Mediterranean in May of that year for a cruise that lasted until October.
Later steaming back to her West Coast base, the ship soon commenced inactivation preparations, leading to her decommissioning in May 1970. USS Galveston's second stay in the Reserve Fleet lasted only a little more than three years. She was stricken from the Naval Vessel Register in December 1973 and sold for scrapping in May 1975.
About this USS GALVESTON 1968-69 MED-WESTPAC Navy Cruise Book
Having been stored by the publisher for the last 47 years, this copy of USS GALVESTON 1968-1969 MED-WESTPAC Navy Cruise Book offered for sale is brand new and has never been distributed. It is in good condition. There may be slight darkening on the edges of the paper, some scuff marks to the cover and a very slight musty smell from storage, which should air out. If you have any questions whatsoever about the contents of this book or its condition, please contact us.