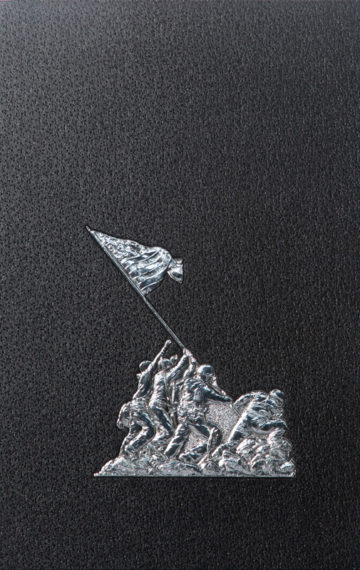 USS Iwo Jima
$249
Publisher:

Allen Publishing

Editor:

Lawrence Allen

Edition:

First

Available in:

Hard Cover

Published:

1971
Buy On Amazon
Buy Direct
USS IWO JIMA (LPH-2) Westpac Navy Cruise Book
Western Pacific Cruise 1970-71
Rare, Brand New Copy Of The Cruise Book Created By The Officers And Crew Of  USS Iwo Jima (LPH-2) As A Permanent Record To Commemorate The Activities During The 1970-71 Westpac Deployment To Vietnam
This poignant USS Iwo Jima Navy Cruise Book 1970-71 is the documentation of the brave and dedicated men who manned the great ship on her Westpac cruise during the Vietnam War, from 2 November 1970 to 7 June 1971.
Beautiful hardbound cover, bearing a silver embossed metalay seal from a hand-made die of the flag raising at Mount Suribachi,
Numerous group portraits
Scenes of shipboard action
Ports of Call including Subic Bay, Manila, Singapore and Hawaii
Named in honor of the historic World War II battle, USS Iwo Jima (LPH-2) is the first ship designed and built from the keel up as an Amphibious Assault Ship. Her primary mission is to embark, transport, and land combat equipped troops by means of embarked helicopters.
USS Iwo Jima was designated as the Primary Recovery Ship for the Apollo 13 moon landing mission. On April 17, 1970 Iwo Jima picked up astronauts Lovell, Swigert, and Haise after their mission was aborted due to an accident in deep space.
On November 2, 1970, Iwo Jima departed for her sixth deployment to the Western Pacific, commanded by Captain Leland E. Kirkemo.
Captain Wycliffe D. Toole, Jr. relieved Captain Kirkemo during a Change of Command ceremony in the Gulf of Tonkin on February 13, 1971.
The high morale and joyful spirit of this crew comes through loud and clear. Photographs of the crew, dramatic scenes including "Mission of Mercy" and "People to People," as well as the final page of copy titled "This is a Happy Ship" depict the positive attitude that carried this crew and her vessel through the most trying of times.
Since her commissioning, Iwo Jima had logged over 50,000 accident free landings, twice winning the Admiral Flatley Safety Award. She earned the National Defense Ribbon, Armed Forces Expeditionary Ribbon, the Vietnamese Service Ribbon (with four Bronze Stars), the Vietnamese Campaign Ribbon, and the Meritorious Unit Commendation Ribbon.
HISTORY OF A PROUD SHIP
USS Iwo Jima is named for the epic struggle in February 1945 in which three divisions of the United States Marines wrested control of the tiny island of the same name from a brave, desperate, and determined band of Japanese defenders. An assault on Iwo Jima was necessary to eliminate Japanese air attacks on the U.S. bombers and to provide a haven for damaged American aircraft returning from bombing missions over Japan.
Amphibious forces of the U.S. Pacific Fleet attacked the fortress of Iwo Jima on 19 February 1945. On 23 February, a 40 man detachment of the 28th Marines scaled Mount Suribachi at the southwestern tip of the island and raised the Stars and Stripes. Associated Press Photographer, Joe Rosenthal's picture of the flag-rasing became the most famous photograph of the war.
The battle for Iwo Jima was fought desperately until 16 March when the island was finally secured by U.S. Forces. In the most savage and costly battle in the history of the Marine Corps 6,821 Americans and more than 20,000 Japanese were killed. As Fleet Admiral Nimitz then observed, on Iwo Jima "Uncommon Valor was a common virtue".
Iwo Jima was launched on 17 September 1960 at the Puget Sound Naval Shipyard in Bremerton, Washington and entered her home port of San Diego on 11 November 1961.
During 1962, Iwo Jima participated in Central Pacific nuclear tests before receiving orders to proceed to the Caribbean during the November Cuban Missile Crisis.
Iwo Jima departed for her first Westpac deployment in 1963, rendering aid to American civilians living in Vietnam after the fall of the Vietnamese government in November 1963.
On her second deployment to Vietnam, Iwo Jima aided in construction of the Chu Lai military complex and served as direction ship during salvage operations on the grounded USS FRANK KNOX (DD-742). On her third deployment to Vietnam, Iwo Jima participated in twelve combat assault operations. Her fourth Westpac cruise included eight more amphibious assaults, and rendering of aid during the Tet Offensive in February 1968.
In October 1969, Iwo Jima returned to San Diego with 1800 marines as part of President Nixon's Vietnam redeployment plan. After several months of upkeep, Iwo Jima was designated as the Primary Recovery Ship for the Apollo 13 moon landing mission in the South Pacific. On April 17, while the world watched on live television ,Iwo Jima picked up astronauts Lovell, Swigert and Haise after their mission was aborted due to an accident in deep space.
DON'T MISS YOUR CHANCE TO OWN THIS HISTORICAL U.S. NAVAL CRUISE BOOK. THIS IS A 45 YEAR OLD CRUISE BOOK FOR A PROUD U.S. NAVY AMPHIBIOUS ASSAULT SHIP AND HER BRAVE CREW.
Having been stored by the publisher and never distributed, this cruise book is new, in good condition. There may be slight darkening on the edges of the paper, some scuff marks to the cover and a very slight musty smell from storage, which should air out. If you have any questions whatsoever about the contents of this book or its condition, please contact us.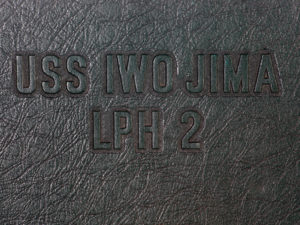 USS Iwo Jima memorabilia on Amazon