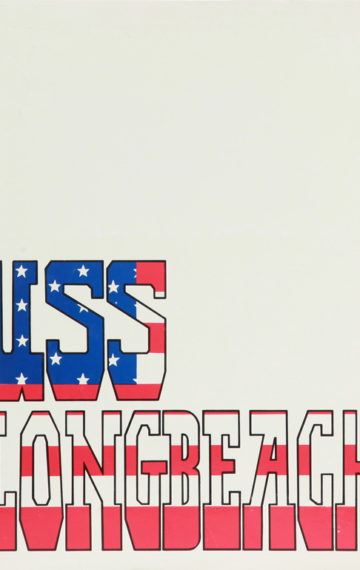 USS Long Beach
$249
Publisher:

Allen Publishing

Editor:

JO3 G. F. Wickman, JOSN M. S. Rose

Edition:

First

Available in:

Hard Cover with dust Jacket

Published:

1969
Buy On Amazon
Buy Direct
Rare, New Copy Of The Book Created By The Officers And Crew Of USS LONG BEACH CGN-9 To Commemorate The 1969-70 Westpac Cruise to Vietnam
This touching USS Long Beach Navy Westpac Cruise Book 1969-1970 depicts the pride and drama of life during this Westpac mission:
Hardbound cover with paper dust-jacket, large 9 x 12 format
239 profusely illustrated pages
Group portraits by division, each sailor identified in sub-captions
Scenes of shipboard action
B & W and many color photographs in Ports of Call including Hawaii, Philippines, and Hong Kong. There is even a color photograph of Maureen Reagan performing at a USO show, with the caption "… she's the daughter of California's governor."
Rear Admiral H. H. Anderson served aboard as Commander Cruiser Destroyer Flotilla II, Commander Cruiser Destroyer Group Seventh Fleet, with Captain G. S. Grove as Chief of Staff.
Captain W. A. Spencer was Commanding Officer of USS Long Beach during the 1968-69 and again for 1969-1970 WESTPAC cruise, with Commander W. W. Sullivan proudly serving as his Executive Officer.
"Being the commanding officer of the world's only nuclear powered missile cruiser is a high honor, but one which carries countless responsibilities. When the ship is underway, especially off the coast of Vietnam, sleep often is lost to the more important duty of just being in charge."
The simple illustration on the dust jacket belies an unusually high number of color photographs enhance this quality cruise book. The portraits of the crew are exceptional for photography taken under these challenging conditions.
More About the USS LONG BEACH CGN-9
From the Department of the Navy, Naval Historical Center:
The third Long Beach (CG (N)9) was originally ordered as CLG (N)-160. She was reclassified CG (N)-160 in early 1957, but was again reclassified as CG (N)-9 on 1 July 1957. Laid down as CG (N) -9, 2 December 1957 by Bethlehem Steel Co., Fore River Shipyard, Quincy, Mass.; launched 14 July 1959; sponsored by Mrs. Craig Hosmer, wife of Congressmen Hosmer of California; and commissioned 9 September 1961, Capt. E. P. Wilkinson in command.
The first nuclear-power surface warship in history, Long Beach was assigned to the Atlantic Fleet and home ported at Norfolk, Va. The guided-missile cruiser conducted extensive shakedown testing of her complex weapons and propulsion systems from 2 October to 16 December 1961; her superlative performance proved the nuclear cruiser a highly capable and effective warship. Between 28 December and 6 January 1962 she conducted operational tests of her missiles off Puerto Rico, then sailed for Bremerhaven, Germany, arriving 15 January for courtesy calls in north European ports.
Returning to Norfolk 7 February, she trained off the east coast and in the Caribbean, on 10 April joining in Atlantic Fleet exercises off North Carolina and Virginia as flagship for Adm. Robert H. Dennison, Commander in Chief, Atlantic Fleet. She was reviewed by President John F. Kennedy and Vice President Lyndon B. Johnson during this demonstration of naval power.
After overhaul and installation of new equipment at Philadelphia, Long Beach trained in the Caribbean and sailed 6 August 1963 to join the 6th Fleet in its Mediterranean peacekeeping operations. She returned to Norfolk 20 December for coastal and Caribbean operations through 28 April when she sailed for the Mediterranean to join attack carrier Enterprise (CVA(N)-65) and guided-missile frigate Bainbridge (DLG(N)-25) in the formation of the first all nuclear-powered task group 13 May. The force operated in the Mediterranean testing its unique capabilities until 31 July when it sailed. under Rear Adm. Bernard M. Strean from Gibraltar on an around-the-world cruise. This operation, "Sea Orbit", reminiscent of the cruise of the Great White Fleet in 1907-09, demonstrated the strategic mobility of U.S. naval nuclear-powered surface forces independent of normal fleet logistic support. During 58 steaming days Long Beach steamed over 30,000 miles at an average speed of 25 knots, without being refueled or resupplied. In the course of the voyage, numerous foreign dignitaries visited the ship during visits off both coasts of Africa and in-port calls at Karachi, Pakistan; Melbourne, Australia; Wellington, New Zealand; and Rio de Janeiro, Brazil. An unqualified success, the operation proved to people the world over the tremendous increase in capabilities nuclear power brings the Navy.
Long Beach returned to Norfolk from this triumph 3 October to join in exercises off the east coast and in the Caribbean. On 4 June she sailed for the Global Strategy Conference at the Naval War College, Newport, where Vice Adm. Kleber S. Masterson, Commander 2d Fleet broke his flag in the ship. Back in Norfolk 23 June, Long Beach resumed training and upkeep prior to her transfer to the Pacific Fleet. She sailed 28 February 1966 for her new home port and namesake, Long Beach, Calif., and arrived 15 March.
The summer of 1966 was spent in training and orienting midshipment in the tactics and operations involved in the modern nuclear Navy. After a period of leave and upkeep in the fall, Long Beach sailed 7 November from Long Beach for the Far East. She arrived on PIRAZ station on the 30th and continued on that vital operation throughout most of her WestPac tour. From 8 to 27 April 1967 the nuclear-power cruiser made a cruise to Sydney, Australia. On the return portion of the trip back to Subic Bay, Republic of the Philippines, the ship made a stop in AIronbottom Sound@ on 23 April for a memorial service commemorating the battles fought and lives lost there in World War II. After the wreath-laying ceremony, she steamed up "The Slot" at 30 knots, back toward a different war.
Long Beach arrived back at the west coast on 4 July where, after a well-deserved period of rest, she resumed the exercises and operations which would keep her well prepared for her return to Vietnam the following year. This next deployment began when she once again left her home on 15 April 1968. As before, the cruiser spent most of her time on PIRAZ station, guiding the many planes which operated over North Vietnam. This tour of duty in WestPac ended with her arrival again at Long Beach on 16 November, where she remained into 1969 when she undertook the cruise represented in this book, departing August 1969.
This cruise book was never distributed, and in good condition, having been stored in a box with other publishers' books since 1970. There may be slight darkening or smudge marks on the edges of the paper, some tears or scuff marks to the cover. If you have any questions whatsoever about the contents of this book or its condition, please contact us.
PLEASE NOTE:
Previously this cruise book was posted as representing the 1968-69 Westpac cruise of the USS Long Beach. It came to our attention that this was incorrect during a search through the portraits for a particular sailor who served aboard from May to December 1968. When creating the post and Amazon listing, we took the years from the following double spread, located 4 pages into the book.

The back side of the dust jacket correctly shows 1969-1970:

The correct years of the Westpac tour appears NOWHERE in the book, only on the back of the dust jacket. Be aware the if you see a used copy of the book listed somewhere else without the dust jacket (see image below), it may be incorrectly listed as 1968-1969: